Daily journaling
without distraction.
An easy, distraction-free way to record your thoughts, declutter your mind and keep the things you want to remember.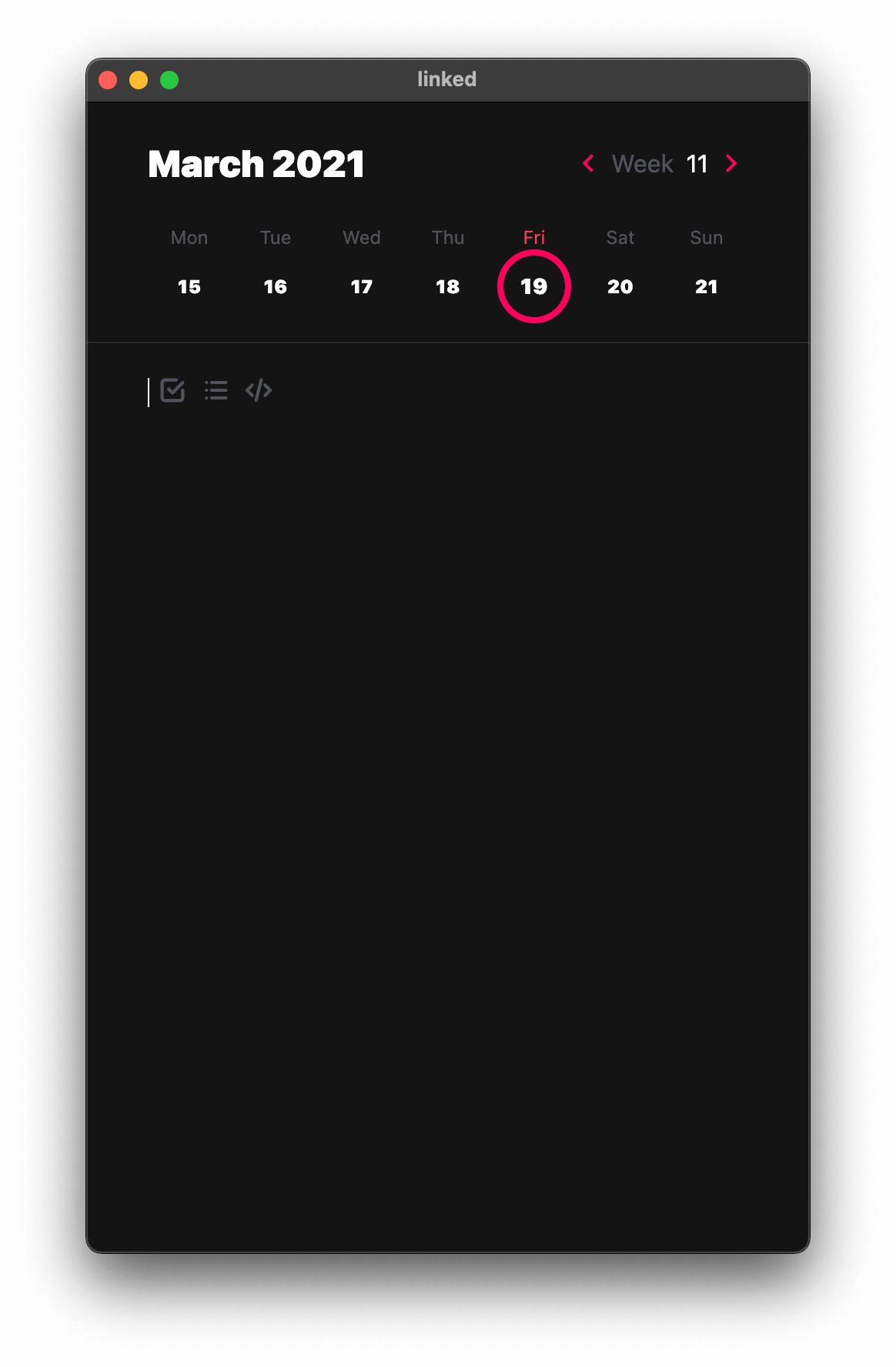 "I love how simple and straightforward linked is. The moment you open the app, you can just start jotting down notes with no fuss. Journaling has never been easier!"

"Finally no more countless and forever lost .txt files on my workstation. Linked is perfect solution for everything in between countless todo notes and digital journals."

"I use linked at work daily! It's just so convenient for taking quick notes. What I especially like is that everything is stored locally - No need to think about data confidentiality."

"I use linked because it helps me effectively manage, track and organize my daily events. It's special because it has a minimalist design while maintaining it's beneficial features and time management."

"linked made me incorporate this good habit of jotting down my experiences for the day and making my day more efficient and organized because of how simple it is to start journaling with it. It has helped me manage multiple tasks!"
Power and simplicity
The features you want, the easy-to-use interface you need. Daily Journaling done right.
The editor you need
Complete control over the appearance of your writing, with extras like lists and todos.
Search it all
Use the full-text search to find what was once written down, lightning-fast.
Offline first
There is no need for an internet connection - your data is stored locally.
Keyboard shortcuts
Complete keyboard control to navigate through the app.
Custom themes
Choose dark or light mode and easily switch between.
We speak your language
The linked interface has been translated into 11 languages, with more coming soon.
Minimal design
Linked's minimal design helps you focus on writing, with the other features available only when you need them.
Community driven
Shape how linked will look like in the future, together as a community.
And much more...
We're working hard to make linked even better. So if there is a feature you'd like to see in the app, we'd like to hear about it.
One of the more effective forms of self-care is also, thankfully, one of the least expensive
Journaling helps with improved mindfulness, memory, and communication skills. Studies have shown that journaling can lead to better sleep, a stronger immune system, more self-confidence, and a higher I.Q. Scientific research has revealed that journaling is the simplest act of self-care available.
Download linked and start reaping the benefits of daily journaling
Journaling is fundamentally an organizational system. Keeping a journal can help us organize an event in our minds and make sense of our days. By writing things down, our working memory improves because our brains are relieved of the arduous task of processing too much information.
FAQ
Questions. Frequently asked ones. Plus our answers. That's how FAQs work. If you can't find what you're looking for, you can always send me an email with your enquiry.
Why is linked free?

Don't worry, you are not paying with your personal data. The app is free and opensource since I like opensource software myself. You will always have full control over your data. If you want to support linked financially, you can consider sponsoring the project.

How can I exit the Codeblock

Press Command/Ctrl + Enter to leave the fenced code block and continue typing in boring paragraphs or simply use arrow down or press Enter three times.